In summer of 2020, like many families during the COVID-19 pandemic, Carley and John Quigley found themselves re-evaluating where they wanted to live. While they had always thought that living close to the city was what they wanted, it became clear that what they truly desired was a home near the sea—a place where they could raise their young family in a safe and relaxing environment.
Discovering the perfect location
A chance conversation with John's sister revealed that there was a house for sale in her estate in Portmarnock. Eager to explore this opportunity, Carley and John went to view the house and immediately fell in love. The location was perfect: near the sea, in an established, close-knit community and with family nearby.
The house itself, however, needed a lot of love. There was no back door, proper heating or downstairs toilet. The kitchen was falling apart. The electrics and boiler were clearly from the 70s, as were the carpets, wallpaper and remaining furniture. Still, despite these challenges, Carley and John knew this was the house for them.
Gaining home renovation guidance and expertise from B&G Construction
Initially, the plan was to make some basic repairs over time. However, an independent contractor Carley and John consulted pointed out that what they truly needed was a larger construction company to undertake a complete home renovation. This meant that Carley and John had to re-think their entire approach and instead consider a larger project.
Carley reached out to Richard Fitzmaurice of B&G Construction who provided invaluable guidance and helped put their project into perspective. Richard clearly explained the costly implications of "quick fixes" and helped Carley and John understand the long-term view.
After her conversation, Carley felt she'd gotten the guidance she so desperately needed. "When you're building a house or doing a renovation, you have so many opinions, but no guidance . . . Richard gave me answers, educated me and made the whole thing feel tangible and approachable."
Carley felt reassured that B&G Construction would take them on the right journey, making it an easy decision to hire B&G Construction for their home renovation project so that they could do things "the right way versus the way that gets it done faster."
Key milestones
From viewing the house the first time through to moving-in day, Carley emphasises the importance of having clear markers at every stage of the project. Rather than having one person make every decision, Carley and John alternated in leading and decision-making. From the very beginning and throughout the process, Marcus, Richard, and Bernard from B&G Construction understood who to approach at different times, making the entire journey smooth and effortless.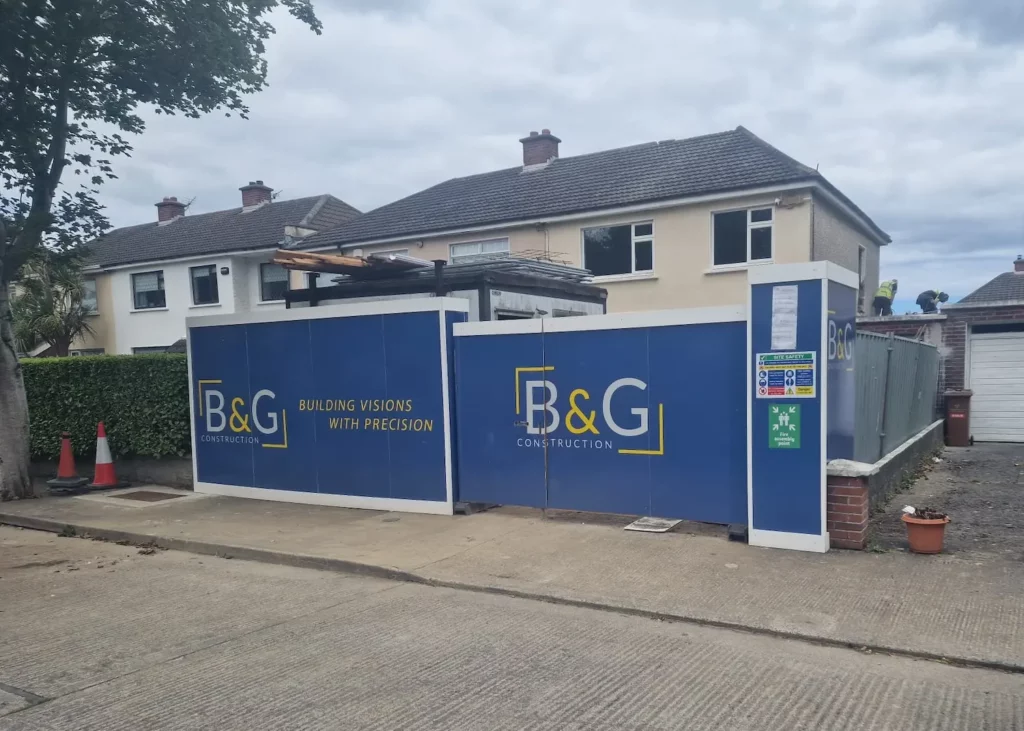 Working with B&G Construction
One aspect that stood out to Carley was how B&G Construction never cut corners to rush the process. Unlike individual contractors, who may prioritise their own schedules, working with a larger contractor meant that B&G focused on what suited Carley and John best. Carley highlighted the trust they had in B&G, knowing they would stay on budget, keep them informed, and allow them to make decisions at the right time.
Building a house, as Carley described it, is a significant commitment. The peace of mind that came from knowing B&G , along with their partners MTW Consulting Engineers had everything under control was invaluable. Richard's expertise, Bernard's on-site presence, and Marcus keeping everything on track and to budget made the experience stress-free. As B&G took an interest in the design, as well as the construction, every detail turned out perfectly.
A smooth and harmonious journey
This was Carley and John's first time embarking on a project of this scale. Carley proudly shares that the project, essentially an entire new build, went so smoothly that she and John didn't have a single argument until the night they moved in—purely out of exhaustion!
The experience of working with B&G Construction consistently surpassed their expectations. Everything was, as Carley puts it, "expertly managed." What's more, B&G not only took care of the renovation but also prioritised the relationships with the neighbours, ensuring minimal disruption within the tight-knit community.
A dream family home
This home renovation project completely transformed what was a dilapidated house into a beautiful, modern family home with large extension, attic conversion and unique design elements such as an exposed brick interior wall, internal garden area and free-flowing kitchen and living space that functions perfectly as a gathering space for family and socialising alike.
In terms of numbers, Carley and John doubled the size of the original 90-square-metre house to a spacious 160-square-metre modern family home. From breaking ground to celebrating with a glass of wine on their new couch, the entire home renovation project took just 11 months.
The couple couldn't be happier with the results. "We have a brand new house now. Coming home from holidays the other night at 1am, we were all tired and cranky but John and I took a moment to look around our gorgeous new home and say to each other: this house is deadly!"
Get in touch
To explore more completed renovation and new build projects, please visit our portfolio. If you'd like to get in touch about your own project, please feel free to contact us.
---